EasyPath GFA8000 modular-design with 13U height, is a next-generation high-capacity data platform for EPON/GPON/10GEPON/xPON/PTN/IP-RAN full service access. It offers 176*GEPON/GPON or 88*10GEPON non-blocking access, and supports the smooth evolution from GPON to 10GEPON and xPON. GFA8000 also supports P2P GE/10GE or PTN/IP-RAN private line services. It is a integrated solution for residential/commercial access and VIP customer private line access on FTTx network for operators, carries and ISP.
Application
EasyPath GFA8000 Series with remote GT8xx and GT6xx ONU/ONT builds a PON network through the ODN (optical distribution network), to provide EPON, GPON, 10GEPON, xPON access for broadband data, VoIP, CATV/IPTV and Wi-Fi services to realize FTTB/FTTH optical access solution. GFA8000 also provides direct GE/10GE service access for more bandwidth or private line service.
In uplink direction, GFA8000 supports multiple kinds of interfaces such as GE, 10GE, PTN/IP-RAN, for the docking to different kinds of networks.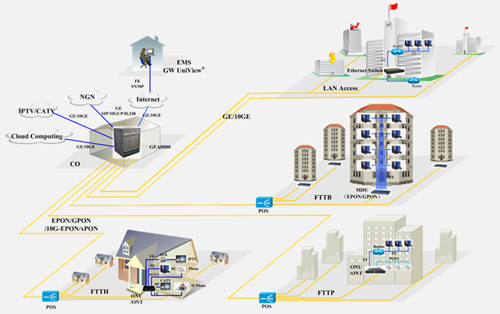 Ordering Information
| | |
| --- | --- |
| Model | Description |
| GFA8000 | 13U chassis |
| GFA8000-PWU220 | GFA800 power supply module, AC220V , support 1+1 backup |
| GFA8000-PWU48 | GFA800 power supply module, DC-48V, support 1+1 backup |
| GFA8000-FAN | Fan module, support up to 3 modules for backup |
| GFA8000-SW | GFA800 MCU/switch module, support 1+1 protection, support up to 256K MAC entries |
| GFA8000-8XET | GFA800 uplink module, 8*10GE, SFP+ interface, 10GE SFP+ module is not included |
| GFA8000-8XEP | GFA800 service module, 8*10GEPON interface, XFP interface, 10GEPON XFP module is not included |
| GFA6900-16EPON | GFA8000/GFA6900/GFA6900M service module, 16*EPON interface, SFP interface, EPON SFP module is not included |
| GFA8000-16GPON | GFA800 service module, 16*GPON interface, SFP interface, GPON SFP module is not included |