With the development of the information industry and the China urbanization process, a large number of CBD grow up. At the same time, the internal communications of police, banking, taxation and other private networks are increasing dramatically. The increase of leased lines leads to new requirement for the fiber optical resources.
        ♢    Flexible user interface types for leased lines, intensive lines for large quantity of fiber cables;
        ♢    Part of the machine room deployed a few fiber cables and the fiber cables are almost used out, not available for new leased line service;
        ♢    Laying new fiber cables need long time and with high cost
In addition to meeting the leased line requirement, maximizing fiber utilization not only saves the time and cost of cable laying, but also is convenient for deployment and maintenance. It will become an important factor that carriers must consider for leased line services.
Summary
In addition to maximizing the utilization of optical fiber, the fiber capacity expansion solution for leased line scenes usually should fulfill the following requirements:
1. Physically isolated leased line channels and transparent data transmission for secret customers like bank, government, military
2. Maximize the utilization of original device to avoid repeated investment;
3. Easy operation and maintenance management, the construction staff can quickly master the installation skills;
4. High reliability, line protection for important lines to ensure the transmission reliability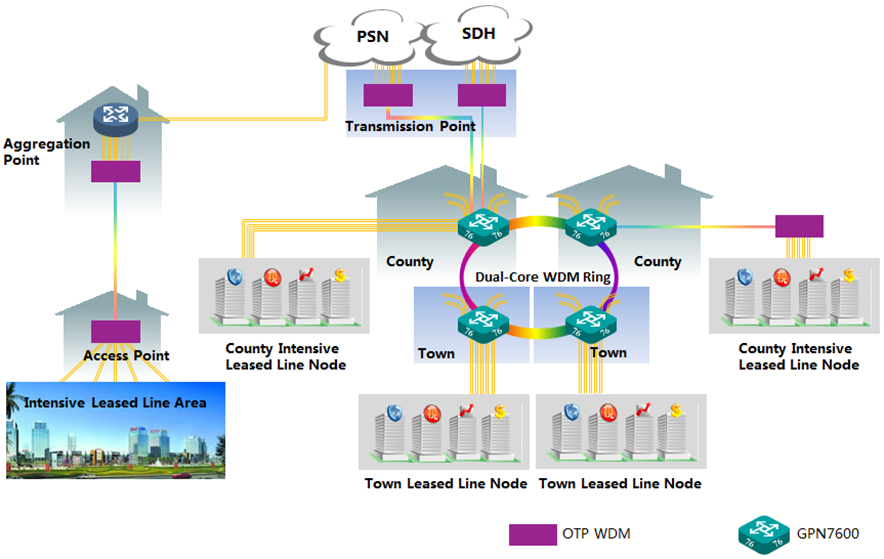 There are two typical leased line scenes: intensive leased line and suburban leased line. The fiber capacity expansion solutions for them are introduced as below:
1. Intensive Leased Line Area
        ♢    A WDM device  is deployed in the intensive leased line area (e.g. CBD) to multiplex 4/8/16 leased lines into 1 or 2 fibers;
        ♢    A WDM device is deployed in the aggregation machine room for the intensive leased line area to demultiplex the leased lines.
2. Suburban Leased Line
        ♢    GPN7600 are deployed in both county and town machine rooms to build a WDM ring over 1 or 2 fibers to provide more leased lines and to save more fiber resources for machine rooms;
        ♢    Line protection in WDM trunk links for reliable transmission.
Features
◇  Reliable
        ♢    Active optical device is  provide 1+1 or 1:1 protection for trunk fiber link;
        ♢    GPN7600 supports ring protection
◇  Powerful
        ♢    GPN7600 supports SDH/PSN/WDM function for leased line services, OLP and fiber capacity expansion
◇  Saving
        ♢    Multiple leased lines over 1~2 fibers to save fiber resource, high fiber utilization, short construction period;
        ♢    Integrated SDH/PSN/WDM platform, to save device deployment cost
Product List
| | |
| --- | --- |
| Product | Description |
| GPN7600 | SDH/PSN/WDM universal access platform, 7U, TDM/PSN private lines, packet switching process, CWDM MUX/DEMUX/OEO/OLP/OADM; |
| OTP5500 | Active WDM platform, 19" 1U/2U/5U chassis, CWDM MUX, OADM , OEO and muxponder cards, outdoor type is optional |
| OTP5300 | Passive CWDM/DWDM MUX, 6/8/12/16/18/40/80 channels, support MUX/DEMUX/OADM, Optional single or dual core for trunk optical link, available for the installation in cabinet, outdoor pole/wall mounting waterproof boxes |
| CWDM Optical Transceiver | Wavelength range 1271nm~1611nm, 155M/622M/1.25G/2.5G/10G optional, up to 120km transmission distance |