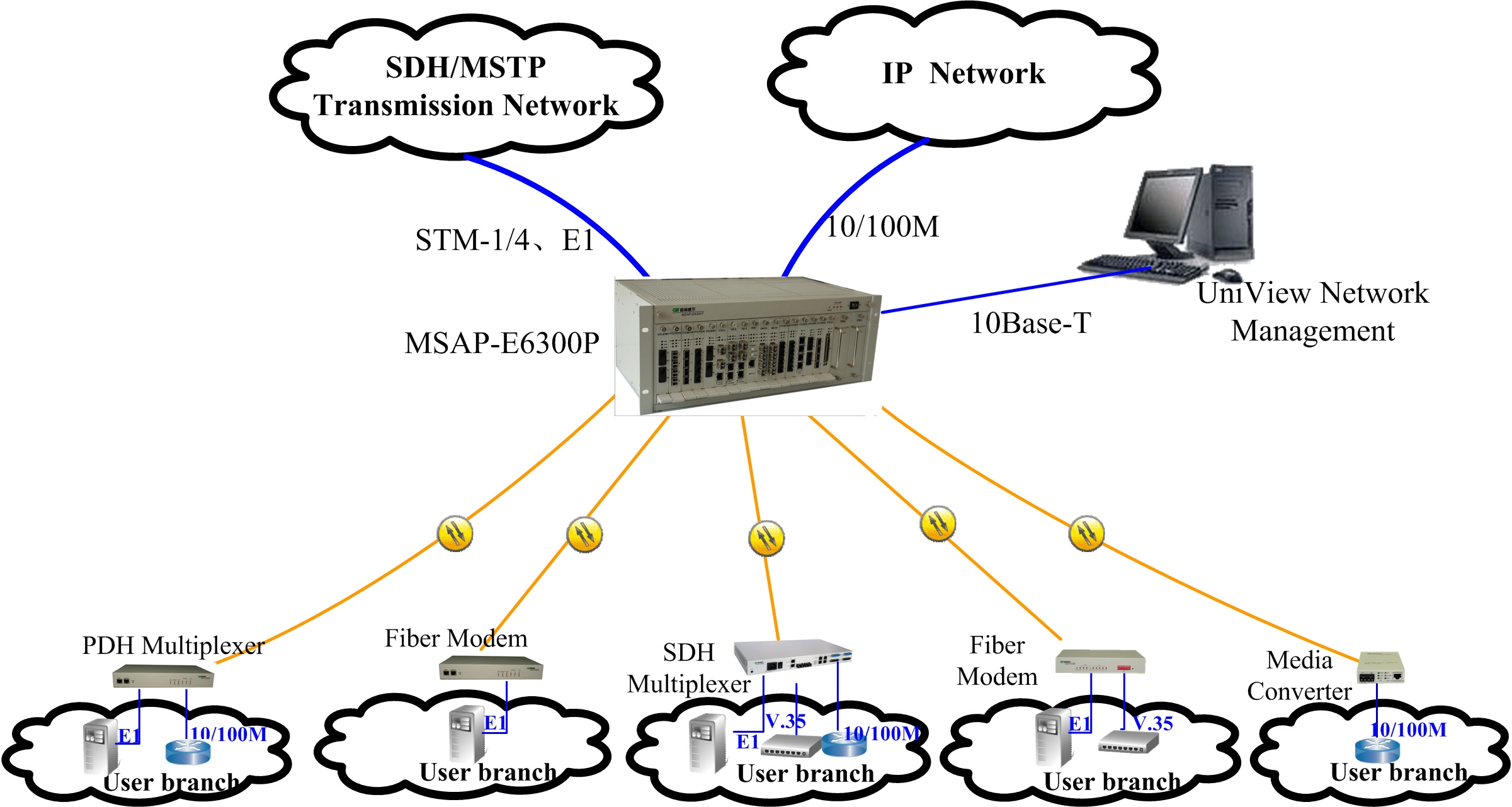 E6300P is carrier-class STM-4/STM–1 Multi-Service Platform with powerful interfacing capabilities and rich mounting options can effectively deliver voice and data service from the optical core to the access.E6300P supports end-to-end provisioning and management of services across all segments of the optical network.Utilizing SDH resilience to deliver a flexible solution to today's service providers.It is well suited for applications where multiple services need to be aggregated and transported across an optical backbone.E6300P can be configured as a Terminal Multiplexer(TM)or Add-Drop Multiplexer(ADM).A variety of service interfaces such as optical/electric E1,optical/electric 10/100Mbps Ethernet,V.35 and STM-1 optical tributary interfaces and trunk interfaces at STM-1/4 rates are supported.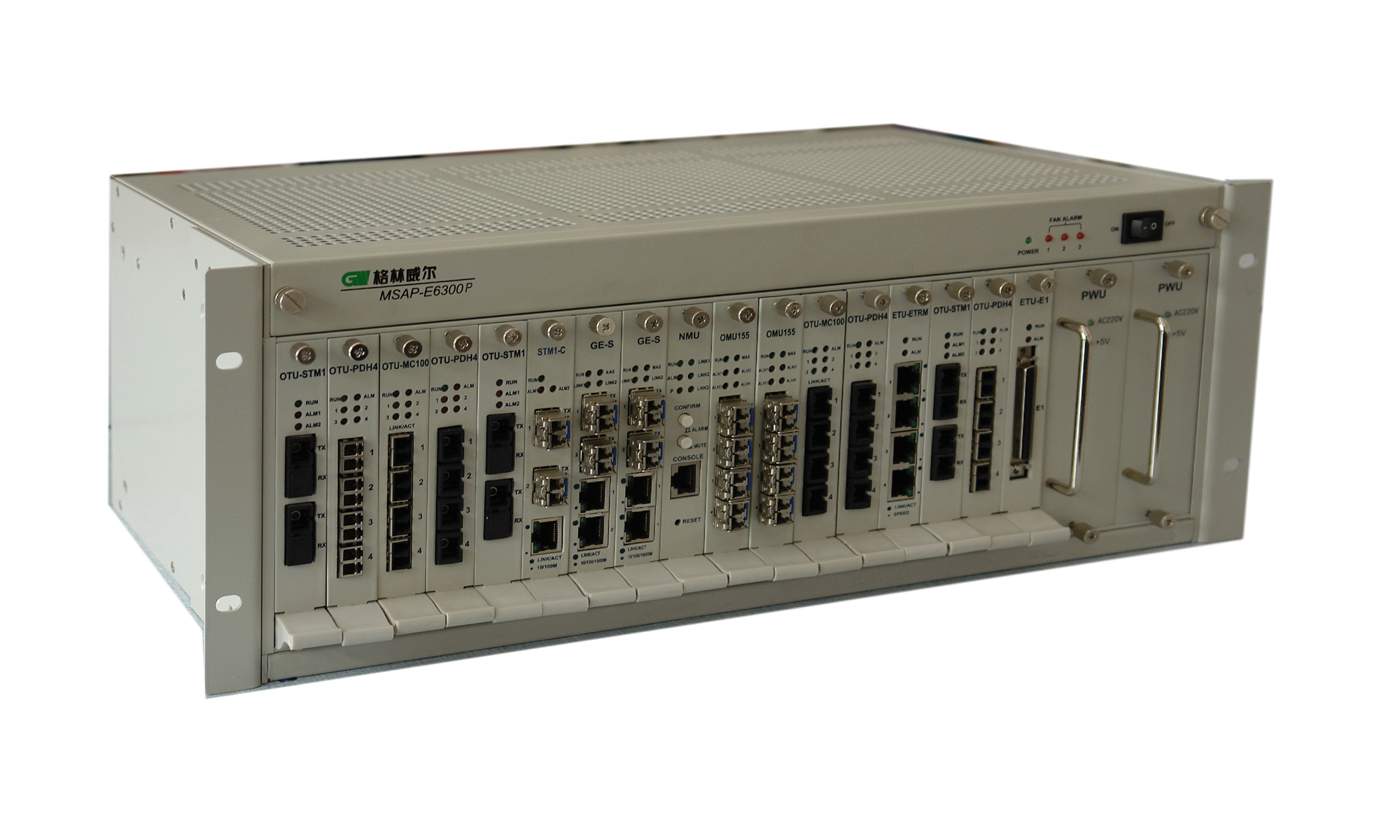 2016*2016 VC12 Cross Connection Capability
2016*2016 VC12 cross connection capability of E6300P can groom traffic directly from any tributary channel to any aggregation channel.These capabilities enable E6300P to deal with traditional voice,data service and Ethernet service.
Power to the MAN
The introduction of standard Generic Framing Procedure (GFP) mapping,virtual concatenation,and Link Capacity Adjustment Scheme(LCAS)for dynamic bandwidth allocation creates a new window of opportunity for carrier-class Ethernet services over SDH.
Reliability Protection Policy
E6300P provides carrier-class protection function of software and hardware.Linear MSP (Multiplex Section Protection),Linear VC Protection and SNCP(Sub-Network Connection Protection)protection is provided.For STM-1/STM-4 aggregation unit,it supports backup protection,automatic switching time less than 50ms.STM-1/STM-4 aggregation unit and power supply have hardware redundancy protection.
Carrier-class Network Management System
Carrier-class GUI Network Management System,all network elements can be configured,managed by NMS.For network management,E6300P can use one E1 channel to transmit network management information.So,it can provide flexible network management channel for users.
Features
◆19-inch 4U rack-mount design,19 slots
◆ Provide 2*STM-4/2*STM-1 optical uplink interfaces
◆Cross-connection capability is 32*32 VC4 or 2016*2016 VC12.
◆ Used as TM or ADM equipment
◆ High integration, E6300P can provide 12 tributary units at most.
◆Redundant STM-1/STM-4 aggregation units and redundant power supplies.
◆Linear MSP (Multiplex Section Protection), Linear VC Protection and SNCP (Sub-Network Connection Protection).
◆2.048Mbit/s external synchronous signal input/output.
◆Complete clock function, providing clock track and maintain function, the clock source can select line clock ,external clock or free oscillation.
◆Provide one link of external alarm out-put function.
◆ Network management interfaces which provide configuration, alarm, performance, maintenance and security function.