Since the implementation of the "Broadband China" strategy, China's Internet has developed rapidly. The broadband network has become an indispensable infrastructure in both urban and rural areas. However, there are widespread fiber lack problems in the broadband network.
        ♢    In Urban FTTB/FTTH, one OLT for the service coverage of one or more residential zones. Each OLT need at least one data plug one voice uplinks. Furthermore, each data uplink is a 10GE path or multiple 10GE paths. So OLT uplinks need many fiber cables;
        ♢    FTTH is the normal way for rural users. Considering the easy operation and maintenance in a wide area, OLT are always deployed centrally. However, the centralized OLT deployment causes the huge fiber occupation in one site.
        ♢    Laying new fiber cables needs a long time and high cost. It is hard to lay new fibers in mutual areas.
Therefore, targeted fiber capacity expansions are the most efficient solutions for fiber lack problem in both urban and rural FTTx.
Summary
In FTTx applications, there are complex conditions such as infrastructure, geographical distributions, user requirements, etc. In addition to maximizing the utilization of optical fiber, the fiber capacity expansion solution for FTTx usually should fulfill the following requirements:
1. FTTB/FTTH for both city and remote rural users;
2. Avoid severe optical power loss and the decline of transmission distance caused by fiber  splicing and jump;
3. Easy operation and maintenance, short fault recovery time;
4. Improve user experience (bandwidth, receiving optical power, packet loss rate, etc.)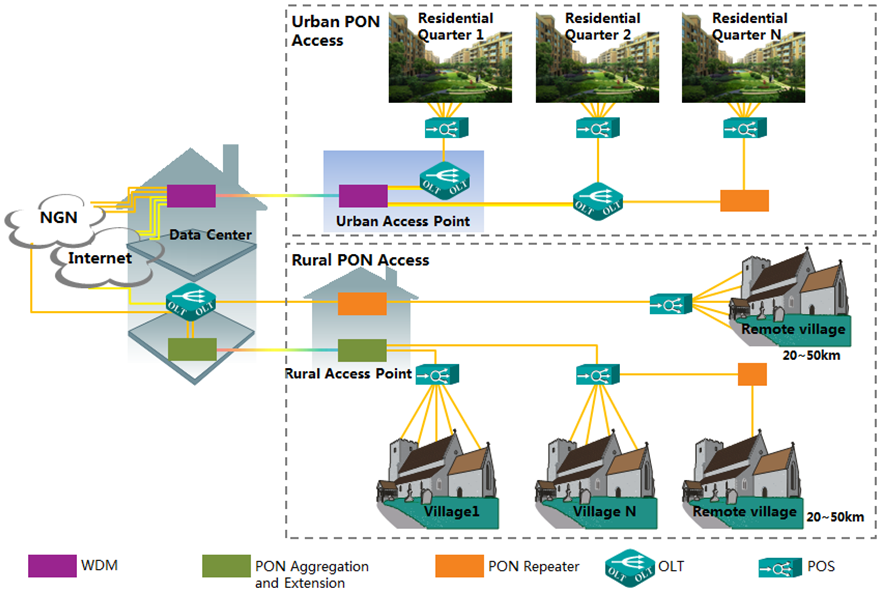 No.

Scenario

Device

Description

1

Fiber capacity expansion for OLT uplinks

OTP5300/OTP5500

Deployed in OLT side to multiplex multiple 10GE or GE uplinks into a single fiber to save OLT uplink fiber resources

2

Fiber capacity expansion for PON lines

OTP5500-P

Deployed in both OLT and access point, multiplexing multiple PON lines over 1 fiber for long transmission distance and wide PON coverage, to reduce the fiber occupation in PON downward path.

3

20Km above PON access

4

Amplify the optical signals of multiple PON ports

5

Raise the  user quantity of multiple PON ports

6

20Km above PON access

OEO5200

Deployed in front of or behind the optical spliter to extend the PON distance and raise the user quantity.

7

Poor PON optical signal for single ONU

8

Raise the user quantity of a single PON port
Features
◇  Flexible
        ♢    For multiple scenarios
        ♢    OTP5500/OTP5500-P is available for trunk link protection
◇  High efficient
        ♢    1~2 fibers for optical trunk link, high fiber utilization
        ♢    Amplify optical signals to extend network coverage and to improve signal quality
◇  Compatible
        ♢    Compatible with OLT/ONU/Switch of mainstream vendors (e.g. Huawei, ZTE, Fiberhome);
Product List
Product

Description

OTP5300/OTP5500

ü Active or passive CWDM, 6/8/12/16/18 channels, optional single or dual core for trunk optical link, available for the installation in cabinet, outdoor pole/wall mounting waterproof boxes;

ü CWDM optical transceiver, wavelength range 1271nm~1611nm, 1.25G/2.5G/10G, 5~8km, 5~35km, 0~8km/8~35km/35~75km/over 75Km transmission distance

ü Optional DWDM

OTP5500-P

ü Based on OTN technology, PON aggregation and Reach Extension, 1U/2U chassis;

ü 4*GPON or 8*EPON over 1 OTU2, second multiplexing of 10GE via WDM card to provide maximum 32GPON/EPON per fiber;

ü 20~30km/30~50km transmission distance

OEO5200

ü PON OEO repeater, compatible with mainstream OLT and ONU, extend PON transmission distance from 20Km to maximum 50Km;

ü EPON/GPON two types