Due to the land resource limitation in big cities, many colleges and universities build branch campuses in suburban areas to ensure enough space for daily teaching and research activities. The branch campuses solve the campus space problem. However, it brings the problem of network interconnection between the main campus and the branch campuses. The main and the branch campuses are geographically separated, but the information of teaching and scientific research should be shared internally. The servers and firewall are mostly deployed in the main campus. So all branch campuses need high speed channel to main campus for daily teaching and scientific research activities. Fiber is the best and only choice for the channel building.
        ♢    The campus interconnection fibers are always hired from carriers. Carriers charge according to the fiber quantity and the distance;
        ♢    If all businesses between the main and the branch campuses are directly one-to-one connected via dark fibers, a large number of fiber cables are required, and the construction cost will increase enormously.
This solution will describe how to increase the utilization ratio of optical fiber and to carry the most network services with the least number of fiber cores through the fiber capacity expansion.
Summary
The campus network has the characteristics of large number of users with focused access time, multiple requirements for online teaching and information sharing. In addition to maximizing the utilization of optical fiber, the fiber capacity expansion solution for campus network should fulfill the following requirements:
1. Low latency for real-time online teaching activities;
2. High Bandwidth for focused network access and fast  transmission of big data;
3. Protection for important links.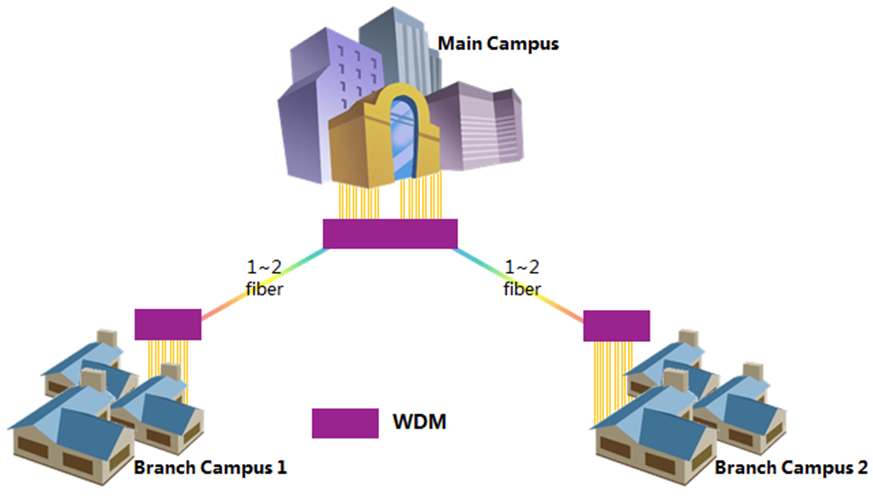 The campus high speed interconnection mainly refers to the connection between the main campus and the branch campuses. The central machine room is deployed in the main campus, and a branch machine room is deployed in each branch campus.
        ♢    WDM equipment with different capacity is deployed in each branch campus for different fiber channel requirements. Each WDM device in branch campus delivers the voice, data and other services of the branch campus over 1 or 2 fibers.;
        ♢    In the main campus, WDM device demultiplexes and drops all the voice and data service from the branch campuses;
        ♢    Active WDM provides trunk link protection for the branch campuses with important service. Passive WDM devices without protection for other campuses without important services.
Features
◇  Efficiency

        ♢    1~2 fibers for optical trunk link, high fiber utilization

        ♢    Transparent data transmission with low latency and safety.

        ♢    Line protection for trunk link

◇  Flexible

        ♢    Support harsh outdoor environment (IP66, -40~85℃)

        ♢    Compatible with any data type and data rate no more than 10Gbps

◇  Convenient

        ♢    Fast deployment;

        ♢    End-to-end management for active WDM devices;

        ♢    Easy expansion
 Product List
| | |
| --- | --- |
| Product | Description |
| OTP5500 | Active WDM platform, 19" 1U/2U/5U chassis, CWDM MUX, OADM, OEO  and OLP cards, outdoor type is optional |
| OTP5300 | Passive CWDM MUX, 4/8/12/16/18 channels, Optional single or dual core for trunk optical link, available for the installation in cabinet, outdoor pole/wall mounting waterproof boxes |
| CWDM Optical Transceiver | Wavelength range 1271nm~1611nm, 155M/622M/1.25G/2.5G/10G optional, up to 120km transmission distance |